Servers are important ministers in the celebration of the Mass.  By preparing the altar and assisting the celebrant during Mass, they help create an orderliness and smoothness.  There are two types of servers that minister in different situations.
Youth  Must be in fifth grade or older.  A formal training session occurs four times a year.
Adult  Assists at weekday masses and also can experience a very rewarding opportunity to give comfort to bereaved families by serving, at the time of funerals and memorial liturgies.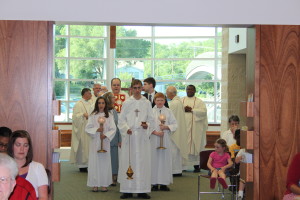 Contact: Anne McGuire 558-1847