Grief is a life changing experience. There is no one right way to grieve. As Christians, we celebrate and give thanks for the promise of eternal life, and we acknowledge grief is a Christian response in the face of loss. At St. Pius X, we seek to be a spiritual home and provide a place of support, prayer, resources and encouragement in the midst of loss and sadness. We offer a variety of ministries to journey alongside our bereaved parishioners at the time of death and in the months and years to follow.
Helpful Links Omaha Area Grief Support Groups List Griefs Journey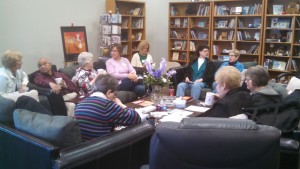 Volunteer Opportunities
We are looking for volunteers to help in any of the following ways:
Individuals to send letters and/or a visit every month for a year following the loss to grieving parishioners. (Training and resources are all provided).
Administrative help in the form of putting packets together, ordering CareNotes, etc.
Plan and organize the Memorial Mass on All Souls Day
Plan the reception after the Memorial Mass
Greeters at funerals held at St. Pius X
Remembrance Candle
Make Prayer Shawls
We ask that you prayerfully consider joining this important community ministry.
Questions? Contact Margaret Hoarty or Rita Ramos, Pastoral Associate, 402-558-8446