The CST Ministry Team meets monthly, usually on the 2nd Thursday at 7 PM. The goals are:
Catholic Social Teaching 101-videos Option for the Poor and Vulnerable Call to Family, Community and Participation Life and Dignity of the Human Person Care for God's Creation Rights and Responsibilities
St. Pius X is a partner congregation with Bread for the World (BFW) and CST team members bring BFW information and advocacy opportunities about the issue of hunger to the parish.
CST members also continue to serve in leadership roles, representing St. Pius X, in the work of community organizing for justice through Omaha Together One Community (OTOC) an ecumenical organization of congregations working together for the common good. St. Pius X was one of the original founding congregations in 1995.
The CST team recently
Coordinated sponsorship of a Syrian Refugee family
Sponsored Catholic Social Teaching education evenings on Climate Change and Immigrants and Refugees
Stood with other congregations opposing the reinstatement of the Death penalty in Nebraska
Worked with OTOC research committees on many city and state issues that reflect the Seven Principles of Catholic Social Teaching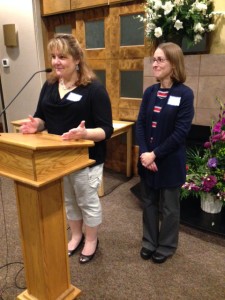 Volunteer Opportunities
Become a member of the St. Pius X CST Planning and Education Team
Receive email updates on CST meetings and activities and notification of social justice education and action opportunities
Contact: Rosie Volkmer, Cindy Sauer