The Funeral Luncheon Committee at St. Pius X offers a  luncheon after a funeral held at St. Pius X.  The  luncheon  is a sharing time for family and friends-a time to ease the grieving for those who have just buried a loved one.  Families are most appreciative of this service.  Food and time is donated by our parish families and is served in the Parish Center.  We are always ready to welcome anyone who would be able to help in any number of ways.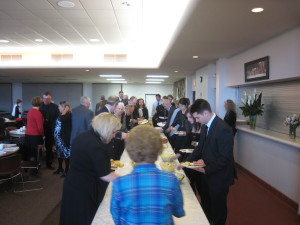 Volunteer Opportunities
Funeral Luncheon Ministry Is looking for volunteers (women, men, young adults, college students) to help out in any of the following ways:
'Day Before' Coordinators-Call family, does menu, calls food caller
'Day of' Coordinators -Oversees the luncheon process day of
Food Caller-makes contact with those providing food
Food providers-Prepare or provide food for luncheon
Workers-Help with set up, serving and or clean up. (Can be done in 2 hour shifts)
Vacuuming/trash removal (hour or less at the end of the luncheon
We ask that you prayerfully consider joining this important community ministry.
Questions? Contact Virginia Fugger, 402-391-0210, or email.