Because the needs of Christ's family extend beyond our parish. many of our parishioners are also active in projects outside the parish. The main goal is to bring people together to help establish and grow relationships with our neighbors. This has been done through being involved in neighborhood associations, and becoming an active player in areas that will improve the community in which St. Pius X is located. There are two primary areas of this ministry.
Strengthening our neighborhood by bringing people and resources together
There are multiple goals of this project:
To provide a bridge between the neighborhoods and the established social service organizations that can assist individuals with specific needs. This will be done through a one time yearly event.
To provide educational training classes to help people develop skills to manage there daily lives and reduce the need to rely on assistance from social service agencies. Several social service agencies have indicated the need of finding ways to get out into the neighborhood communities and are excited about the prospect of developing neighborhood outreach program such as ours throughout the Omaha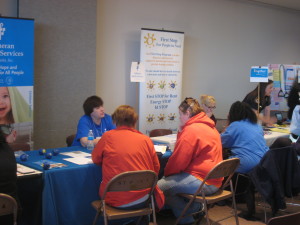 The training classes will have professional, experienced educators within the field of expertise needed for specific topics and all have volunteered their time and talent. The Neighborhood Outreach ministry also hopes to track participants of the training the training classes and following up with the participants to ensure the classes are helping the participants to become more self sufficient, reduce their need to rely on outside social service agencies for assistance and provide them with the skills and/or information to improve their daily living environment.
Another aspect of the Neighborhood Outreach Ministry consists of parishioners reaching out to our neighbors and holding small get-togethers.  The goal is to assist with neighbors meeting neighbors and discuss issues and concerns  and to help strengthen the neighborhoods regardless of religious affiliation, race, age or economical status.  This is accomplished:
By working with the neighborhood associations and city organizations on various projects such as clean up days, or neighborhood garage sales, etc.
By continuing to work together on building community relationships with St. Pius X being an anchor in the community.
Helpful Links
Benson Neighborhood Association                                                           Benson Garden Neighborhood Association                                    Keystone Neighborhood Association                                                          Peony Park Association
Volunteer Opportunities
Join the ministry planning group
Data entry
Help with training classes
Be part of the team in developing  outreach event
Go out into the neighborhoods and talk with people.
Many other opportunities
Contact: Nancy Lobsinger and Trish Lobsinger