Welcome to St. Pius X parish! You are now part of a dynamic, active and vibrant parish family. We hope the warmth and welcome you received will help that "newcomer" feeling fade rapidly.
St. Paul tells us that we are all members of the body of Christ and as members of His body, we all have gifts and talents to share for the building of God's kingdom, so we invite you to become involved in the various ministries of the parish.
As God's people, we are called to holiness. As a community of faith, we strive to pray well together. In doing so, we grow in holiness and in the image of Christ, placing ourselves at the service of others.
Again, welcome! It is a blessing for us to have you as a part of the St. Pius X family.
Volunteer Opportunities
Be a part of our group. Meet new parishioners and welcome them into the parish. Here's what we do: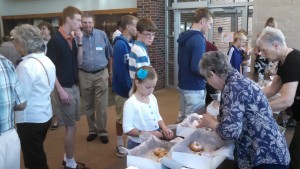 We call the new parishioners.
We set up a home visit with them.
We supply them with information about the parish.
We hold a yearly Hospitality Weekend for new parishioner
We have fun doing it.
Contact: Mary Martins