Tradition of Sacrifice, Hard Work and Simplicity…
St. Pius X Parish officially began May 8, 1954, when the Chancellor of the Omaha Archdiocese wrote the Rev. George Kempker in Worthington, Ohio. In effect the letter said: We're building a new parish; we want you to be the "architect." You'll start with two blocks of property at 69th & Blondo (a cornfield), 500 families, and our prayers.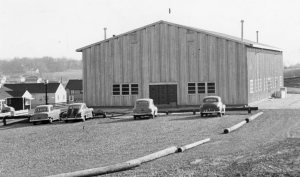 The energy of Fr. Kempker, a former marine chaplain, was contagious. Ground breaking for Pius' house of worship – a metal structure called a "Behlen" building – began September 20th. Shortly before Christmas, Archbishop Bergan dedicated St. Pius X Church. Many called it a "ninety day wonder." Construction on a 19-room school building began August 1, 1955. It was completed in time for the 1956 fall term, with an enrollment of 465 students and a staff of four Servants of Mary Sisters, including the Principal, Sr. Mary Brigetta, and seven lay teachers.
Scaffolding, work crews, bricks and mortar were common sights for parishioners during the next several years. The parish grew, and by 1965, St. Pius X School was the largest in the Midwest with an enrollment of 1,565. Fr. Kempker, who suffered a stroke, retired in the spring of 1968.
In June of 1968, Fr. Charles Brodersen, was named pastor. "Fr. B" quickly caught the Pius Spirit. In keeping with Vatican II, he established the Parish Council and other committees, thus involving more laity (men and women) in the actual planning and growth of the parish. During the Brodersen years, the "ninety day wonder" was remodeled, given a brick façade and air-conditioned. In June of 1977, Fr. Brodersen left St. Pius to become Pastor of St. Stanislaus Parish.
Fr. Thomas O'Brien, Pius' first assistant, came back as Pastor that summer. He felt right at home. The "Pius Spirit" was still alive and flourishing. In the summer of 1978, St. Pius helped establish a neighboring parish, St. Leo, to help meet the needs of the rapidly increasing number of families in the area. St. Pius X School was renamed St. Pius X/St. Leo and a partnership was born. Under Fr. O'Brien's leadership, the laity continued to blossom and nurture the parish. People were called upon to use their gifts and many new programs began. Called to leadership, parishioners soon discovered a need for a gathering place for carrying out ministry with one another. In 1986, the Parish Center was built and blessed.
In June of 1996, parishioners bade farewell to Fr. O'Brien who left St. Pius to become Senior Associate at St. Vincent de Paul Parish. In his place, Pius was blessed to have yet another son returning home. Fr. Lloyd Gnirk had been a resident at St. Pius in 1982. He, too, quickly caught the "Pius Spirit." He fondly recalls his first Mass at St. Pius as Pastor. Coming from a smaller parish, he felt overwhelmed and honored to look out at the sea of faces of this parish of 1,500 families. Under Father Gnirk's leadership the parish has moved forward in many areas. In the summer of 2001, the north school building was updated and given a new façade. In the summer of 2002 a four-classroom addition for kindergartners was completed and the south school building was given a new façade. In addition, a new garage for the priests was built. The new Administration wing for the school was completed and dedicated in 2006.
In June 2008, Fr. Gnirk became the Pastor at St. John's in Valley, NE. During his 12 years as Pastor, our parish and school saw many accomplishments.
Fr. John L. Pietramale was appointed as the Parish's 5th Pastor in June 2008 and served for 3 years until becoming pastor of Our Lady of Lourdes Parish in Omaha. In his time here at St. Pius, Fr. Pietramale was able to grow St. Pius's savings, endowment and with the help of so many in the parish, put the parish on a stable financial footing. This stability enabled the parish to move forward with the renovation of the Parish Worship Space.
Fr. Mike Eckley, a native of Omaha and of Our Lady of Lourdes Parish, was named the 6th pastor of St. Pius X in June 2011. Fr. Mike was formally installed as pastor on July 31, 2011 by Archbishop George Lucas at an evening prayer service that also included the procession of the Eucharist out of the church into the Parish Center. This was the official beginning of the renovation.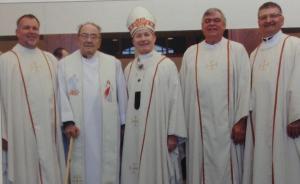 "The renovation is a beautiful finished product," said Fr. Mike. "It's a testament to all those who have worked so hard to accomplish it. We preserved what we could: the mahogany paneling, the stained glass windows, the marble altar and ambo, the beauty of the church." Archbishop George Lucas blessed the renovated church in a dedication Mass on June 3rd.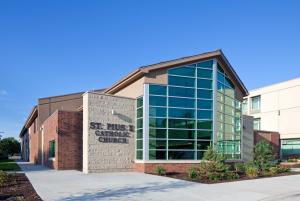 In 2014 we celebrated the 60th Anniversary of our parish and the life of St. Pius X on the 100th Anniversary of his death. We as a Parish Family had much to be grateful for and much to celebrate. In 2015 our focus will be St. Pius X's motto "To Restore All Things In Christ", which is also the motto of our parish.