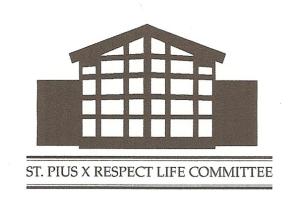 The St. Pius X Respect Life committee desires to work in collaboration with other organizations to evangelize, advocate, pray and promote activities that celebrate and foster a culture of life here at St. Pius X and beyond.
Respect Life Prayer
Heavenly Father, source of all life, we pledge this day to respect your gift of life in all its forms, especially the weak and most vulnerable.  We beg your assistance in giving witness to the infinite value of all human life.
The life of the young, the life of the old, the life of the prisoner, the life of the sick, the life of the stranger, the life of the poor, the life of the family, the life of the nation , the life of the church, the life of the world, life eternal, and our share in life divine.  Amen.
The many activities include but are not limited to:
40 days
Life Chain
Advent Baby shower
Volley for Life
Dime Toss at Parish Festival
Special events during October and January
Helpful Links:
United States Conference of Catholic Bishops Respect Life                       Archdiocese of Omaha Respect Life Apostolate                          Nebraska Catholic Conference                                                                                    National Life Chain      
Volunteer Opportunities:
Interested people can become involved in many ways.  The committee meets on the 1st Saturday of the month at 7:30 am.  Or you may take part in any of the listed activities.  These are regularly promoted through the parish.
Life Chain (first Sunday in October)
40 Days for Life ( 2x per year in the fall and during lent) P
Pro-life Living Rosary, feast of the annunciation
Other Respect Life committee activities
Support/volunteer at local pregnancy help centers: