The Shawl Ministry provides an opportunity to combine the care and love of knitting into a prayerful ministry that reaches out to those in need of comfort and solace.  Many blessings are knitted into every shawl.  If you know of someone who would benefit from a prayer shawl contact the Pastoral Ministry Office.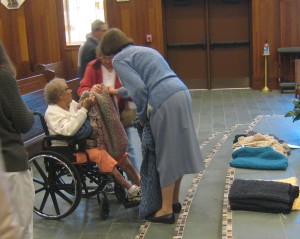 Volunteer Opportunities
Shawls can be knitted/crochet in a group around faith conversations or individually in a quiet place at home.  The shawls that are knitted go to those experiencing loss and sickness, or who might be homebound and are in need of comfort.
 Donate yarn
Knit (or crochet) shawls (as a group or individually)
The yarn, patterns, and prayers can be provided. 
Contact: Pat Franks or Rita Ramos, Pastoral Assistant, 402-558-8446