The St. Pius X Community Garden is located to the west of the Fr. O'Brien Parish Center.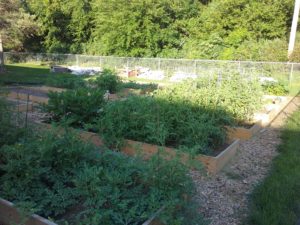 The parish has 12 garden beds that are 4 x 12 in size and easily split between two if you'd like to share with a friend. The cost to garden for the season is $35 and water is available. You supply the seeds/plants, mulch, and elbow grease. We'll even provide some technical support if you have questions or concerns throughout the season! Planting begins at the end of May and you may garden through the month of October if weather permits. Sign up's begin in April. In the meantime, call Sandra with questions at 402-320-3444 or email garden@stpiusxomaha.org
St. Pius X Community Garden Guidelines and Registration. Thank you for participating in the St. Pius X Community Garden. The mission of the garden is to be a response to our call to care for the earth, to allow parishioners to grow fresh food in a low maintenance, sustainable way, and to provide a new and different space to be a community at 69th & Blondo.
St. Pius Community Garden Organic Guidelines The St. Pius community garden encourages all gardeners gardening in the church's plots to follow organic principles. This is defined as 'an ecological production management system that promotes and enhances biodiversity, biological cycles, and soil biological activity. It is based on minimal use of inputs and on management practices that restore, maintain and enhance ecological harmony.' This is to say the emphasis should be working with nature, building healthy soil, preventing problems before they occur then using only natural, non-toxic substances if intervention is required.
Please carefully review any soil additives (check the labels!) before using in the garden to ensure the garden remains organic and productive for years to come.