Many great activities are planned. We'll have the popular cake walk, bake sale, raffles, silent auction, grocery booth, craft booth, beer garden, concession stand, pickles and lots and lots of games for young and not so young.
Volunteer Many hands are needed. You can donate items or to really enjoy the festival, plan to work at one of the booths.
Sign Ups Concessions, Grocery Booth, Beer Tent Donations (Drop off of food items is in the hallway off the narthex of the church. Booths and Games volunteer sign up Silent Auction Donations (Drop off items in Parish Center by May 20) Sportsman Booth prize donations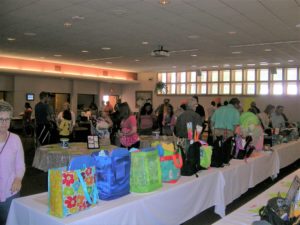 Silent Auction Our Silent Auction is always looking for baskets and larger items. Consider getting some friends together to make a basket such as for camping, which could include items (new items) such as cooler, tent, camp chairs, stove, sleeping bags, etc. Also a college basket could include a microwave, small refrigerator, sheets, towels, gift cards for these items, etc. ** Some suggestions for single items: sports equipment, griddles, crock pots, baking pans, religions items, charcoal grill, fishing gear, gift cards and ALWAYS CARE CERTIFICATES. Baby baskets go well, but should be colorful and unique. A QUILT would also be a great item. You may have ideas of your own and all items are welcome.. All donations are tax deductible. Call Sally Saucier, 402-551-6745 for further information. Sally could also use some help in putting baskets together.
Craft Booth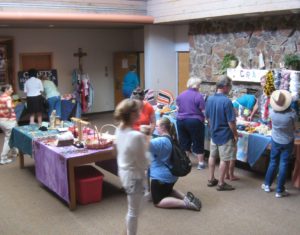 This is one of our most popular venues run by the St. Pius Women's Organization. However, we do need help from our parishioners, as we only sell homemade goods, except for our jewelry table. Here are some suggestions of things we need – and if your homemade craft is not on here we'd love to have it also.
Kitchen towels, pot holders, dishcloths, aprons
Wooden decorative items, wooden stools, door stops, picture frames, etc.
Baby items – blankets, caps and hats, quilts, clothes, diaper bags
Scarves, flip flops, walker baskets, plastic bag holders,
Afghans, quilts, tablecloths
Crocheted and knitted items – decorative and/or wearable
Our jewelry table is used jewelry of any kind. We have found this to be a popular item with our younger customers as well as others. We also need help during the festival working in the booth for an hour or two. Hours are from 11 am to 6 pm. You'll find working with the ladies from the Women's Org. to be fun and friendly. For further information call Colleen Morrissey, 402-554-1768 or cdmomaha@gmail.com.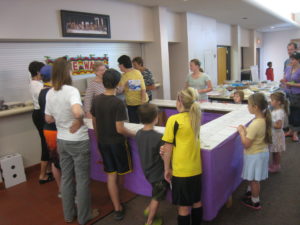 Cake Walk – The cake walk is one of our most popular games. Young and old alike join in the fun of trying to win one of the luscious cakes on display. We need about 120 cakes for the game, so if you like to bake, we'd love to have your cake(s). The original chairman of the cake walk was Ellie Ernst, who passed away in January, and we are honoring her memory this year. Julie Stubby is the current chairman of the cake walk, and Ellie used to babysit Julie years ago, so the thread goes on. Julie needs a lot of cakes, so if you can donate one or more, call her at 402-572-8832 and let her know what you can donate. Please just leave her a message.
Bake Sale – We will again have the bake sale at the festival, which features many, many mouth-watering items to buy and eat immediately or to take home and eat later. Barb Kirkpatrick is the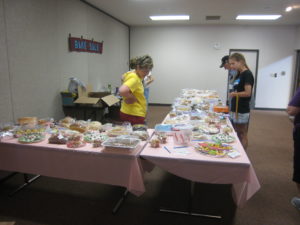 chairman of this event, and she would really appreciate your help in supplying your favorite baked items for this booth. Whatever you like to bake from bread to cookies to pie and anything in between would be wonderful and much appreciated. We also get many requests for gluten-free and diabetic products. If you bake either of these, please mark them as such, and thank you.
Sportsman's Booth This popular booth will appear again. We need your help to supply the booth with prizes. Gifts not returned after Christmas? Gifts purchased and stored?
NEEDED: Sportsman equipment, balls, bats, gloves (smaller children to adult items) yard games, hats, pennants, fishing equipment, poles, reels, nets, coolers, flashlights, water bottles, gardening items i.e. sprinkling cans, camping items, swimming items. I will contact area schools for t-shirts and miscellaneous items. Do you have any contacts at high schools or colleges? Our goal is to attract all ages.
Dollar donations accepted. Bring donations to the rectory. Thank you and questions call Karen Walag 402 390-2717.
Sponsorship-Raffle Form (1)
Committee Chairs A few spots are still in need of chairs. Please consider joining us in some of the open spots.