On Sunday mornings, during the 9:30 AM mass, pre-school aged children meet in the kindergarten room to learn about God, hear stories from the bible and make some really cool stuff! These youngest members of the St. Pius X meet for Sunday Preschool from September through April.
Registration Required
Please print and complete the registration form attached here or come a few minutes early and fill out the form on Sunday.
Your children will love this! 2017 SUNDAY PRESCHOOL REGISTRATION FORM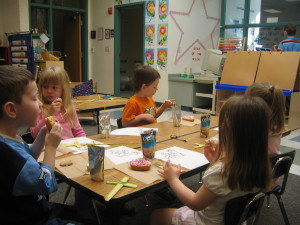 Volunteer Opportunities
If you enjoy working with the very young, ages 3 – 5, this ministry is right for you! Work with the Sunday Preschool Director, and the Sunday preschool catechist, as often as you are able. They can use your help in so many ways: assisting the children as they make their really cool stuff, teaching prayers, reading stories, and even flying kites in March!
Contact: Patrick Kudlacek, 402-960-5938 or Colleen Ciciulla,402-558-1898